Philosophy
Expressing the terroir, our "sense of place" in our wines is the main goal at Redstone.
This requires a respect for the land and what it gives back and utilizing minimal intervention winemaking techniques to capture the unique terroir that exists here on the Twenty Mile Bench.
Our grapes are picked and sorted by hand or by our state-of-the-art harvester and optical sorter, reducing waste and keeping the very best for winemaking.
Fostering the health of our vines and the soil they grow on requires a labour-intensive and hands-on approach. The 38-acre estate vineyard, farmed organically, is perfect for maturing late-ripening varietals including Merlot, Cabernet Franc, Cabernet Sauvignon and Syrah.
Organic farming feeds the vines and controls diseases without the use of synthetic insecticides, fungicides and fertilizers. We strive to create a diversified balanced ecosystem that generates health and fertility from the vineyard itself. Healthy vines mean less need for outside substances to control diseases and promote growth.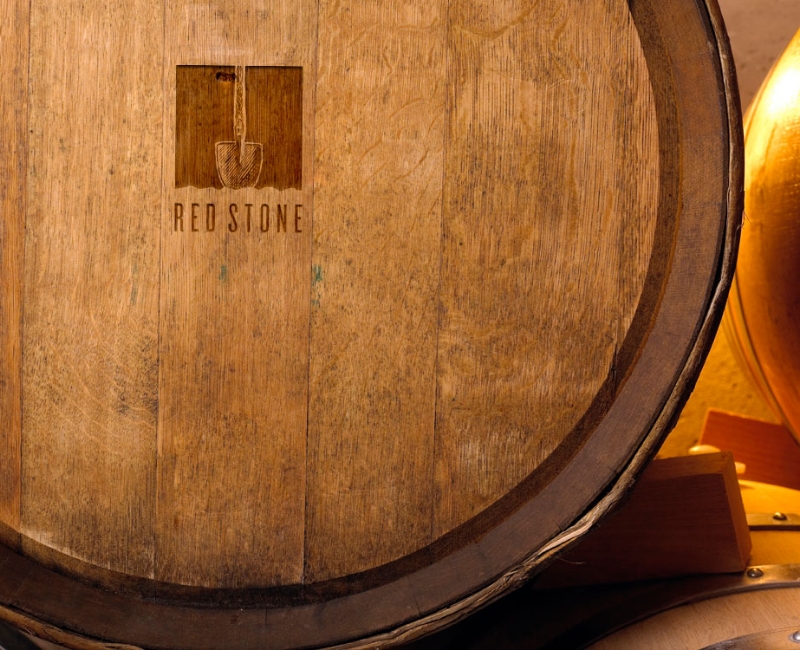 Redstone Vineyard
Total Area: 38 acres, 25 acres under vine
Appelation: VQA Lincoln Lakeshore
Location: Merritt & King Street, Beamsville
Soil: Red clay
Organic certification: 2013
| Varietal | Acreage | Oldest Vines Planted |
| --- | --- | --- |
| Merlot | 5 | 1995 |
| Cabernet Franc | 12.2 | 2010 |
| Cabernet Sauvignon | 2.3 | 1998 |
| Syrah | 3.8 | 2003 |
| Pinot Gris | 1 | 1995 |
Limestone Vineyard
Total Area: 65 acres, 30 acres under vine (shard with sister winery Tawse)
Appelation: VQA Twenty Mile Bench
Location: 19th Street & 7th Avenue Jordan
Soil: Clay loam over limestone
| Varietal | Acreage | Oldest Vines Planted |
| --- | --- | --- |
| Riesling | 10.5 | 2003 |
| Cabernet Franc | 5.02 | 2022 |
| Pinot Noir | 4.14 | 1999 |
| Chardonnay | 7.72 | 1999 |