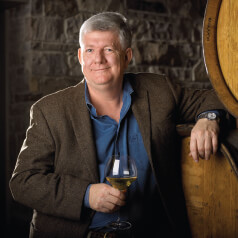 Moray Tawse
Proprietor
A financier by trade – he is the vice president and co-founder of First National, the country's largest non-bank mortgage lender- as well as a lifelong lover of wine, Moray Tawse could also be called a terroir collector.
After realizing the potential of winemaking in Niagara, Moray purchased his first vineyard in 2001. In 2005 he opened Tawse, the winery that bears his family name. He then secured vineyards in his beloved Burgundy and his project with famed winemaker Pascal Marchand, Marchand Tawse was born.
Redstone is the newest addition to his portfolio and his second project on the Escarpment. "When you get an opportunity to get a terroir where the wine's great, you buy another vineyard! ", he confesses. When the former Thomas and Vaughan property came up for sale in 2009, it was an opportunity he simply couldn't pass up.
The vineyard, which is ideally suited to maturing late-ripening Bordeaux-varietals, was originally intended to supplement the Tawse portfolio. However, when the first wines were made in 2010, they showed such a different character and terroir signature that Moray decided that they deserved their own home. So the idea of Redstone was born. This was also an opportunity to take advantage of the great location off Highway 8 to build a state-of the art tasting room. He would also get to indulge another of his passions, with the opening of locally-inspired 80-seat restaurant and spacious patio.