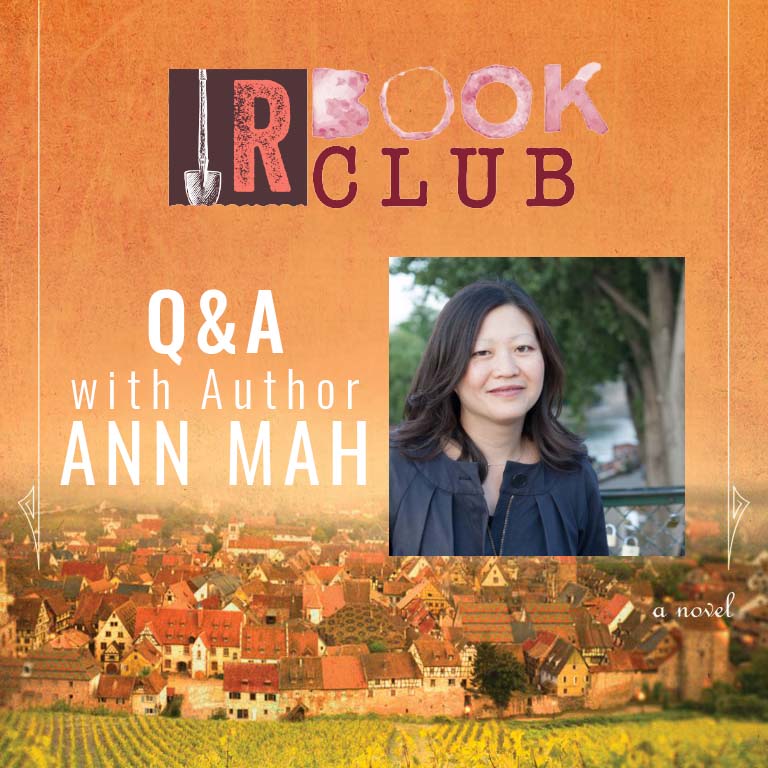 Redstone Book Club: Q&A with Ann Mah
Our Book Club members submitted questions to the author of our latest book, 'The Lost Vintage'. Thanks to Ann Mah for taking the time to answer these and for reaching out when we announced her book in our rotation!
---
Q: I've been studying wine for years and have a passion for food. I have always wanted to write a book but it seems like such a daunting tasks. How did you get into food writing? Do you have any advice for an inspiring writers?
AM: I started writing about food when I found myself newly married and living unexpectedly in Beijing. We had moved for my husband's career and I was unemployed and missing my work as a book editor terribly. My first articles were for a local magazine for expats – I started writing about local fashion because that was the content they needed – eventually I got up the confidence to pitch some pieces on food. After a few months I became the dining editor, and from there I began freelancing for larger publications, and also started writing my first novel. There are so many different paths to working as a professional writer, but almost all of them begin small – with a blog, or local paper, or school newsletter. Having a thick skin is also important (there's a lot of rejection, at every level). It also helps to write regularly – that's where a blog comes in handy – and, of course, reading widely in different genres is essential.
Q: Your writing about wine and the region is very detailed and really made me want to visit and drink the wines (who doesn't love a good Meursault). What did you do for researching the book?
AM: I first visited Burgundy in 2010 to research an article on Thomas Jefferson's favorite vineyards in France. The minute I set foot in the region, I was captivated by the vine-covered slopes and charming villages. And if I sensed ghosts there, hovering amid the beauty, they only added to my fascination. I think the seed for this novel was planted then. A few years later, I volunteered to pick grapes at the harvest in Champagne. Harvest volunteers are often given free room and board, and I was put up in an empty attic apartment at the vineyard house. The rooms hadn't been touched since the 1960s: they were sparsely decorated with mid-century hospital furniture; the floors creaked; the wallpaper was peeling; and at night the rural silence was deafening – and bone-chilling. Even though I was exhausted from long days of physical labor, whenever I lay down to sleep, my imagination would cartwheel. And so, I slept with the lights on, and when I woke, I wrote in my journal. This story was born from those wild scribblings.
Q: What is your favourite food memory?
AM: Biting into the first croissant after a long absence from Paris. It's a memory that I hope to relive over and over again with each reunion with my favorite city!
Q:What are you currently reading?
AM: I just finished WRITERS AND LOVERS by Lily King, which was a page-turner and a love story – although not in the traditional sense. It's about grief, and work, and relationships that let us down, and above all it's an ode to the writing life.
Q: Do you have another book in the works?
AM: Yes! I just finished the manuscript for my new novel. It's called JACQUELINE IN PARIS and is about the year Jacqueline Bouvier Kennedy spent in Paris as a study abroad student, from 1949 to 1950. She was twenty years old, living with an impoverished Countess who was a former resistance spy, discovering a new country and herself. It's the story of Jackie before Jack – a young woman's awakening to art, politics, romance, and love. She later called that year the happiest of her life. The book will be published in Fall 2022.
THIS or THAT!
Q: Wine or cocktail? (Do you have a favourite?)
AM: Wine! I love a crisp, minerally white like Sauvignon Blanc, or a light-bodied red Burgundy 🙂
Q: Sweet or salty?
AM: Salty.
Q: Tea or coffee?
AM: Tea.
Q: Travel or the comfort of home?
AM: Can I say both? As a diplomatic family, we move regularly to far-flung locations that allow us to travel – which is the best of both worlds!
Q: Comfort foods or Haut Cuisine?
AM: Depends on the occasion!
---
We have copies of 'The Lost Vintage' left in stock, so you can still purchase our September Book Club Pack for yourself, your own Book Club meeting, or make it the perfect gift for your favourite Book Worm/Wine Lover